MikroTik cAP Dual Band AC PoE Ceiling Mount AP
The cAPGi-5acD2nD is a very capable and powerful wireless access point that looks beautiful on both walls and ceilings. The concurrent dual band wireless radio supports dual-chain 2 GHz and 5 GHz in 802.11ac and legacy standards, and will provide coverage in 360 degrees.
Specifications:
Antenna Gain: 2.4GHz: 2dBi 5.8GHz: 2.5dBi
Beam-width: 360°
Data Rate: 2.4GHz: 300Mbps 5.8GHz: 867Mbps
Ethernet Ports: 2x 10/100/1000
Hardware Button: Reset
Max. Power Consumption: 13W
Mounting: Wall & Ceiling Mount
Operating System: Router OS (Level 4 Licence)
Operating Temperature: -40°C to 50°C
PoE Input: 17V-57V (Passive PoE, 802.3af/at)
PoE Output: Passive PoE Pass-through Port 2
Power Input: 24V 1.2A Power Supply (Included)
Serial Interface: None
SIM Slots: None
Supported Voltage Range: 17V-57V
USB Ports: None
Other: None
Even though the radio supports repeater mode, the two Ethernet ports give you the ability to extend your network with cables, even if PoE power is required, since the cAPGi-5acD2nD supports 802.3af/at PoE input on the first port, and passive PoE output on the second port.
The cAPGi-5acD2nD is a feature packed device with a sleek enclosure, that can become inconspicuous with the push of a button - the customization mode button in the device center will turn off all lights and sounds at it's default configuration, but can be reconfigured to launch any Router OS script.
The device comes bundled with two enclosures, so you can choose the design you like best.
The cAPGi-5acD2nD is equipped with two Ethernet ports, allowing you to connect another device, to further extend your network. What's more, the second Ethernet port supports 802.3af/at PoE output, so it can power a wide variety of RouterBOARDs and other devices, like IP cameras.
Network Example: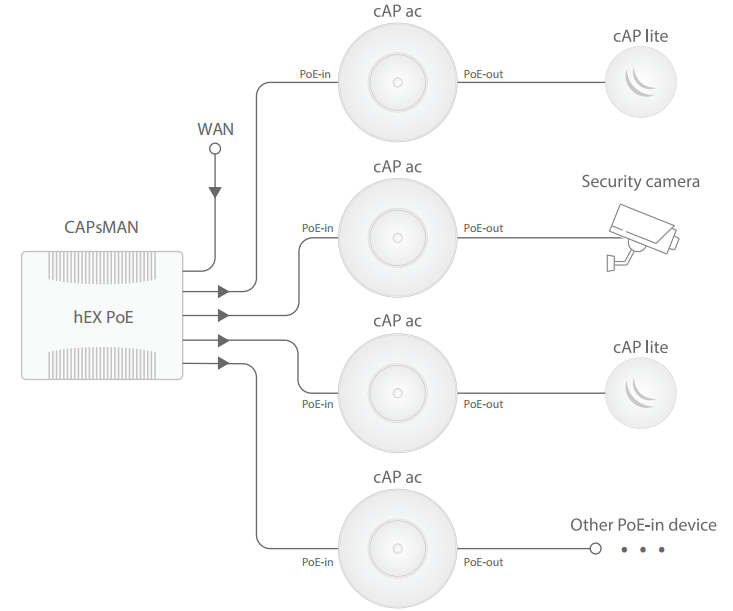 In the above scenario, you can use a central hEX PoE device to power all your cAP ac units, and then have cAP lite units connected to provide even better coverage. The hEX PoE can even be used as a CAPsMAN server, so you can easily manage all your access points, and control all their settings in a single device.
Additional information
| | |
| --- | --- |
| Weight | .700 kg |
| Dimensions | 145 × 145 × 30 mm |